New
In stock
Harman Kardon Aura Studio 3 Bluetooth Speaker
Distinctive, elegant design
The art of beautiful sound. With a domed design, premium materials, and ambient light effects, the iconic Harman Kardon Aura Studio 3 makes a modern statement in your home.
The Harman/Kardon Aura Studio 3 Bluetooth speaker is a wired dome-shaped speaker with soft pulsing lights. It has a balanced sound profile out-of-the-box, making it suitable for listening to a wide variety of audio content, though it can sound alternately dark and bright at times. Thanks to its 360-degree design, it has great directivity, resulting in an open and natural-sounding soundstage. It can also get pretty loud, though there's some compression present at max volume that can affect the clarity of your audio at louder volumes. Unfortunately, it struggles to reproduce low-bass, so you can't feel the deep thump and rumble in bass-heavy music. There also aren't any sound customization features you can use to tweak
SHIPPING
Complimentary ground shipping within 1 to 7 business days
In-store collection available within 1 to 7 business days
Next-day and Express delivery options also available
Purchases are delivered in an orange box tied with a Bolduc ribbon, with the exception of certain items
See the delivery FAQs for details on shipping methods, costs and delivery times
RETURNS AND EXCHANGES
Easy and complimentary, within 14 days
See conditions and procedure in our return FAQs
Have a question?
[contact-form-7 id="4963" title="Ask About This Product"]
Description
Harman Kardon Aura Studio 3 Bluetooth Speaker, Exceptional 360-Degree Sound, Powerful Subwoofer, Ripple effect Ambient Light, Wireless Streaming, Distinctive Elegant Design – Black
Elevate your home with the timeless, iconic design of the Harman Kardon Aura Studio 3 for 360 degrees of beautiful sound. A stunning Bluetooth speaker that looks as good as it sounds. It pairs room-filling audio with integrated ambient light effects, a water wave ripple movement to experience your music in a new, visually dynamic way. With a domed design as understated as its small footprint, this piece blends in beautifully with your décor, in any room of your home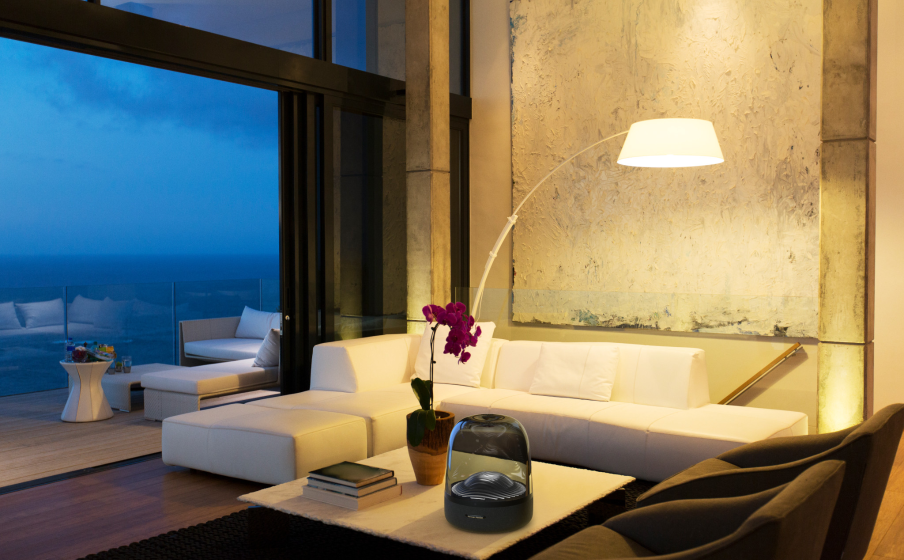 Exceptional 360-degree sound
Style and substance. Harman Kardon Aura Studio 3 speakers emit exceptional 360 degree audio. Enjoy more dynamic sound thanks to a powerful subwoofer for a truly immersive listening experience.
General Specifications
Support
A2DP 1.3, AVRCP 1.6
Transducers
Mid-high range
Rated Power
2 x 15W RMS + 1 x 100W RMS
Frequency response
45Hz – 20KHz (-6dB)
Signal to noise ratio
80dB at 15W (Mid-high range); 80dB at 100W (Subwoofer)
Power supply
100-240V – 50/60Hz
Bluetooth transmitter power
0 – 9dBm
Bluetooth transmitter frequency range
2.402 – 2.480GHz
Bluetooth transmitter modulation
GFSK, π/4 DQPSK, 8DPSK
Dimension (H x W x D)
283.6 x 232 x 232 (mm) \ 11.2″ x 9.1″ x 9.1″
Related products
Rated 0 out of 5

352,000.00

UGX
Harman Kardon Aura Studio 3 Bluetooth Speaker
Add to cart
Start a Conversation
Hi! Click one of our member below to chat on Whatsapp
The team typically replies in a few minutes.